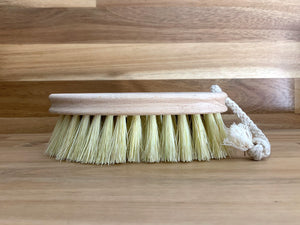 This all natural wood dry massage brush is a great addition to your at home self care routine.  Quality materials make up this brush that with care you will enjoy for years to come. 
All natural
Plastic free
Compostable
Vegan Materials 
Materials:
Untreated Beech Wood, light Tampico Fiber, cotton strap
Wash bristles with unscented soap as needed, to remove dead skin cells. 
Tips for dry massage, from Redecker:
Dry massage is a wonderful form of stimulation for the vascular-circulatory and nervous system, but please observe the following rules: always start the massage on the parts of the body that are the farthest from the heart, on the feet, then the arms. Massage using 3-5 strong, slow strokes of the brush towards the heart. In the stomach, chest, and back areas use smaller circular motions in clockwise direction. A pleasant, added cosmetic benefit of such a massage is a gentle peeling: dead skin cells are removed. 
It is recommended to only dry brush 1-2 days a week.  Sensitive skin may need less. 
Each brush measures approximately 2 x 5.5 inches
Made in Germany