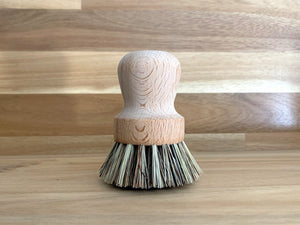 Perfectly designed, easy to hold all natural pot brush with stiff bristles.   
Plastic free
Heavy duty scrubber
Vegan materials
Compostable
Use on stainless steel and cast iron pans for stuck on food and messes. Avoid using on your coated and non-stick pans or use gently and with caution.  
Each brush can be used for at least 1-3 months.
Keep dry in between each use. 
Materials:
Untreated Beechwood and union fiber.
Each brush measures about 2.5 in.
Made in Germany