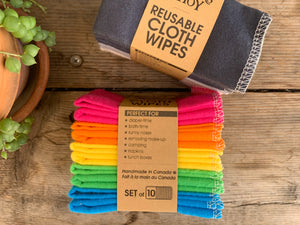 Reusable, washable and extremely multi-purpose! A good cotton wipe can be used every day. Washed and used again.  Saving resources, saving money and saving our skin. 
Baby wipes
Runny noses (no more red noses!)

Bath-time

Toilet paper

Napkins, kids lunch boxes
Camping
Removing make-up

Care: Fabric is not pre-washed, so wash and dry before use. To clean, loosen stains with a cold rinse first, if necessary, then wash on warm or hot with like colours using your detergent of choice. Tumble or hang to dry. Fabric will naturally become softer and reach maximum absorbency after a few wash cycles. Expect some shrinkage. These wipes will hold up to all the rinsing and hot washes you put your cloth diapers through. *Do not use fabric softener or dryer sheets as they can decrease absorbency.
Sold in sets of 10.

100% cotton
Size 8x8" 
​Handmade in Ontario, Canada.